We would like to introduce you to the public, staff and appointed governors who sit on our Council of Governors. Please read the biographies below to learn more about each of them.
Lynn Walshaw

Bolsover, Chesterfield, North Derbyshire


Lynn is a Registered Nurse, passionate about patient care, who has enjoyed a 40-year career working within the NHS as both a clinician and in Senior Manager roles working in both acute and community trusts. After semi-retiring in 2014 Lynn has worked as an independent Consultant within the NHS.

Lynn is married and moved from her home county of Yorkshire to Derbyshire 32 years ago. Lynn enjoys a number of interests which include history, art and design, travel and road touring and sings within a local community singing group.
Public governors are local people who have been elected by local people to work with us on behalf of their local communities. They represent local interests and are working with us to improve health services for the future.
City of Derby
Valentine Oluka - I have a soft spot for the sick and vulnerable, hence the reason I became a carer. Prior to becoming a carer, I was in the manufacturing sector working as a mechanical engineer for over a decade before moving to the UK. In the UK, I work with numerous healthcare-providing agencies as a support worker and also with the NHS as a "Volunteer Ward Support". I am married and my marriage is blessed with a lovely 3 year old girl. In my spare time, I love watching documentaries and sports as well as driving/travelling.
Amber Valley, Erewash & South Derbyshire

Paul Gibbons: Although Paul obtained a degree in Civil Engineering, he is now more interested in town planning and historic buildings. Another long-standing interest is social and industrial history including serving on various committees. He has also been a Governor at the Royal Derby Hospital. He is single and has been in Derbyshire since 1970 when he joined the County Surveyor's Department at County Offices, Matlock. He is generally in good health.
Ian Hill: Ian has over 30 years experience in social housing at both operational and strategic levels, working for local authorities in Derbyshire and Yorkshire.
During that time Ian was involved in partnership projects with health and social care providers that benefitted people with a range of needs including mental health, learning disabilities, physical disabilities, teenage parents. Ian was the Project Manager for older people's housing strategy and extra care housing at Derbyshire County Council.
Since retiring Ian has been a Trustee at Amber Valley CVS and is currently a Trustee at Age UK Derby and Derbyshire.
Ian enjoys walking, cycling, running and supporting Rotherham United!
Stephen Carter - Steve, is an extended-scope practitioner in foot health and sports injury management, he is passionate about patient care and education. He has enjoyed 20 years plus working within the private sector and 10 years of service in the military, both as a clinician and in management roles. Steve is a great supporter of the Armed Forces and the Armed Forces Covenant and has achieved Gold Award and numerous customer service and clinical awards. Steve has a partner and lives in Ilkeston Derbyshire for the majority of his life.

Steve enjoys a number of interests which include, traveling to Greece, Greek food, and keeping fit. He is also an active member of his local branch of The Royal British Legion.
Paul Robertson - 'Paul is a local government officer who has a varied career spanning 48 years working in allocation, managing and developing affordable housing more recently dealing with insurance and risk management. In that career partnership working with health, adult services and the voluntary sector has been a continuous strand.He has also been active as a volunteer as a school governor and a paitient representative on a GP practice and an Amber Valley group. Paul is married and moved from Yorkshire to Ripley 31years ago.
Bolsover, Chesterfield, North Derbyshire
Claire McCann: Claire is a qualified nursery nurse and has worked within social services as a family support officer. Claire has recently passed an engagement and diversity course, level 2 and is studying an Open University degree course in Psychology.

Claire has lived in Chesterfield for 40 years and is a single parent of 2 autistic young men. She enjoys the gym, walking and meeting new people.
Lynn Walshaw - Lead Governor: Lynn is a Registered Nurse, passionate about patient care, who has enjoyed a 40-year career working within the NHS as both a clinician and in senior manager roles working in both acute and community trusts. After semi-retiring in 2014 Lynn worked as an independent consultant within the NHS.

Lynn is married and moved from her home county of Yorkshire to Derbyshire 32 years ago. Lynn enjoys a number of interests which include history, art and design, travel and road touring and singing within a local community singing group.
Gillian Harvey: Gill was a GP partner in Dronfield for 35 years, retiring at the end of 2015. During that time she was a GP trainer and medical student educator. Gill was Clinical Governance Lead at North Derbyshire PCT and a Clinical Advisor sitting on the GP performance panel, performing quality visits to GP practices and Chesterfield Royal Hospital, and investigating complaints against GPs.

Gill has lived in North Deryshire for most of her life and has two children and four grandchildren, all of whom live in North East Derbyshire.
Jill Kendrick: Jill is a retired NHS employee having spent 39 years working for the NHS in Derbyshire. A substantial part of her career was spent working closely with our primary care colleagues. Her final position as Head of Performance and Planning involved working with all secondary care providers ensuring NHS targets for patient care were achieved.

Jill has lived in Derbyshire all her life with the last 18 years being in Bolsover. Jill is married with one daughter and one granddaughter. Hobbies include walks with the family dog and taking holidays everywhere.
Sanjoy Sen: Sanjoy was born and raised in Chesterfield. He is keen to support the NHS in Derbyshire, especially in memory of his father, an eye surgeon at the Chesterfield Royal Hospital from the late 1960s until the late 1980s.
Sanjoy is a chemical engineer by profession. He previously worked in Aberdeen and various international locations on offshore oil & gas projects. In recent years he has been involved in the clean energy transition and currently works on hydrogen projects.
Sanjoy's interests include quizzes and he has appeared on several TV shows including Mastermind (semi-final) and Only Connect (quarter-final).
Derbyshire Dales & High Peak
Ann Button: Ann is very concerned about the treatment and care of the elderly, local rehabilitation wards, appropriate food and hearing problems.

She Chairs Deaf and Hearing Support, which covers North Derbyshire, and gives general advice to aid the hearing impaired with employment and integration in society, helping prevent isolation and depression.

She is a committee member of 50+ and attends various appropriate group meetings and was a member of the old PCT Elderly and Disabilities Commissioning groups. She is also Chair of the former Derbyshire Electricity Consumers Complaints Committee, and a member of the East Midlands and National groups. Her employment experience includes working in the accounts department in a department store and secretary to a professor of Mathematical Physics at Birmingham University.

Ann has lived in Bakewell for about 46 years but life has taken her around the country from the Midlands to Devon and London, and back to Nottingham and Lincoln and loves exploring the history and countryside around her. She has two children and six grandchildren. Her interests include gardening, cooking, embroidery and reading.
John Dick: John is a retired local Government officer and previously employed in heavy engineering as a production engineer with emphasis on Health and Safety.

John has lived and worked in a rural community for 42 years, regularly getting involved with projects for the benefit of the community particularly the building of a village hall.

John is the Chairman of the Ashbourne and District 50+ Forum, Vice Chairman of the Derbyshire Older Peoples Advisory Group and member of Age UK Policy Review panel, local PPG, and Patient Voice delegate to EMAS.

John attends health seminars, community forums, participates in and promotes exercise health and wellbeing.
Jane Dent: Jane is a retired registered nurse, having worked in many sectors in both the acute and primary care, most recently as a staff nurse in the district and also covering a treatment room in Prison. We moved from Scotland two years ago to be closer to our adult sons who had moved south previously. We chose the Peak District for its beauty and wonderful walking, both my husband and I being hill walkers and mountaineers.
Rest of England
David Boddy: David represents the Rest of England constituency from his home in Sheffield.

Retired from DCHS in 2018, David is keen to represent the voice of patients and their carers, while acknowledging the financial challenges faced by the NHS. David is also an active volunteer with Healthwatch Sheffield.

Among several interests, he enjoys walking in the Peak District, learning Italian, organising a book club, attending live music and travelling far and wide.
Staff Governors represent staff interests and have been elected to work with us to enhance patient care and the working lives of staff.
Meet our Staff Governors
Nursing
Marie Heywood: Marie is a registered general nurse who has worked in the NHS for 34 years. She has experience in acute and primary care, in Elderly care, Midwifery, Neonatal Intensive Care, Health Visiting and her current role is as a Specialist Community Public Health Nurse in School Nursing. Marie is passionate about public health and developing services for children and young people, and hopes to raise the profile of these services as a Governor.

Marie has lived in South Derbyshire all her life and is married with two children and two cats. Pre-Covid Marie enjoyed going out for meals, aqua-aerobics and badminton.
Pippa Millett: Pippa began her registered general nurse training in 1985 at the Royal Derby Hospital. After qualifying, she worked at Leicester Royal Infirmary in Trauma and Orthopaedics until 1991.
She then went on to complete a Diploma in Midwifery in Lancashire, moving back to the East Midlands where she worked for 15 years as a midwife in Derby both in the hospital and community.
When her children were young, she returned to nursing working nightshifts in a private hospital on a mixed general surgical and orthopaedic unit, where she stayed for 8 years working both day and night duty eventually.
She returned to the NHS in 2014, joining DCHS as a community nurse, and then was lucky enough to acquire a role in Tissue Viability with Derby Hospitals. After 6 months she was transferred back to DCHS to continue her role as a community Tissue Viability Specialist Nurse. Pippa continues in this role today.
Claire Neale: Claire qualified as a nurse in 1996 and has worked in Derbyshire Community all of her nursing career and is committed to community healthcare.
Claire was awarded Queens Nurse status in 2019 of which she is immensely proud of. Claire is an Integrated Community Team Lead which keeps her on her toes!
Claire is married with two adult children, she says her house feels like a B&B at times but she wouldn't want it any other way. Claire likes to chill out in her garden during the summer months or snuggled on the sofa in her PJs with a good boxset.
Other Registered Professionals
Lynne Bakewell: Lynne is a Physiotherapist that has been qualified for 25 years and she has worked in North East Derbyshire for the last 13 years within DCHS. She has experience of community working alongside therapy colleagues as well as nursing teams and hospital based services.
Lynne believes that the focus of patient care should be around ensuring a quality service and an excellent patient experience. She sees the staff governor role as essential to finding out about how and why the trust is moving forward and influencing the shaping of future services. She believes that staff should challenge where appropriate and that all views should be heard and valued.
Tracy Elder:
Healthcare Support, Facilities and Estates
Rachel Green: Rachel is a Technical Instructor working within Physiotherapy Outpatients at Ripley Hospital since 2007. Also, previously working for short periods within Babington, Ilkeston and Heanor hospitals.
She has studied and developed within her years at DCHS with more clinical knowledge. Rachel is a qualified gym instructor and most recently, a wellbeing champion for her service and completing her health improvement qualification.
Rachel has been married for 20 years and lived in Derbyshire all her life. Her 2 boys have grown up, so she spends more time with her dog and learning the rules of Flyball.
She is keen on being physically active to support charities, and often encouraging her colleagues to join her challenges along the way!
Joy enjoys outdoor activities, especially adventures involving a bicycle.
Adam Twyford:
Administration, Clerical and Managers
Hazel Lea: Hazel started her NHS career in Sheffield in 1994 and has done various admin and management roles in Sheffield and Chesterfield NHS Trusts. She joined DCHS in January 2010 and her current role is business manager in quality & professional standards, which involves working closely with the medical director and his senior team. Hazel's also a staff wellbeing champion.
Hazel lives on the North Derbyshire/South Yorkshire border with her husband, two teenaged daughters and a big fluffy cat. She enjoys outdoor activities including walking, running and cycling. Also a love of overseas travel which hopefully incorporates good food, cocktails and a chance to explore exciting new places.
Medical & Dental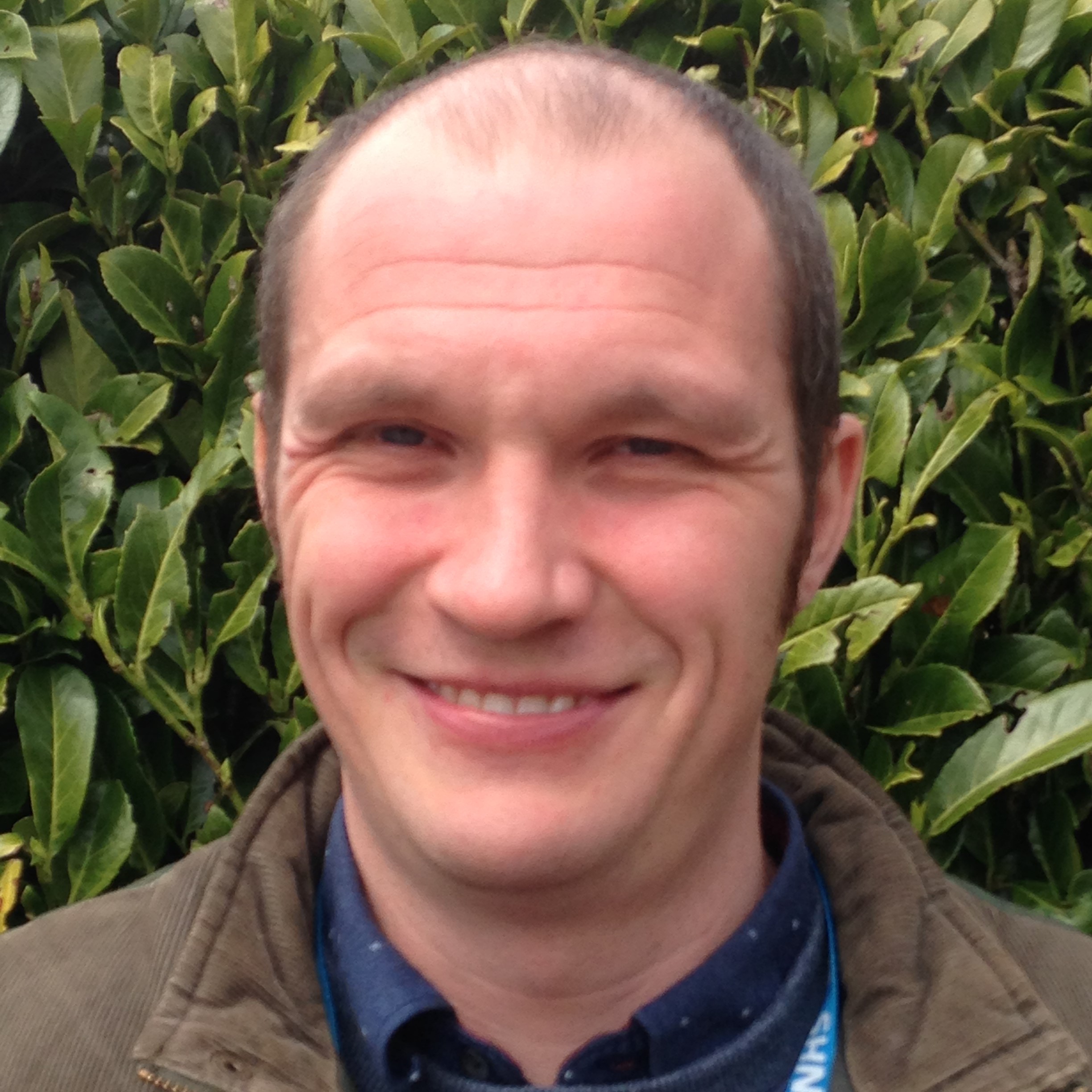 Dr. Alexander Carberry: Alex is a GP who works in Castle Street Medical Centre in Bolsover. He has an additional interest in Medical Education.
Alex is from Nottingham and studied medicine in Glasgow before moving to the Chesterfield area to complete his GP training. Alex enjoys anything that gets him outside, be it gardening, hill-walking or going for a run. He has a pet puffer fish!
Along with our Public and Staff Governors, we also have three Appointed Governors. These Governors are nominated representatives from partner organisations we work closely with:
Derbyshire County Council
Cllr Neil Atkin: Neil lived at Barrow-on-Trent and was educated at Heanor Gate School before attending Broomfield Agriculture College following which he joined the family farming business as a Landowner until he retired in the Spring 2017 after being bought out of the family business due to changes.
He is known as a dual hatted elected member for two local authorities the first was back in 2002 for South Derbyshire District Council to the present day and secondly for Derbyshire County Council where he is now serving his second term of office. Over the years he has been on several committees covering Planning, Housing & Community & Leisure services, Overview & Scrutiny, Audit, Environment & Development Services on the District Council also was the Council Civic Chairman twice (to some the Mayor)
At Derbyshire County Council he served on the Pensions & Investments committee as vice chairman and also served on the Derbyshire Fire Authority. During his term on the East Midlands Airport Independent Consultative committee he was the vice chairman then became the interim Chairman for two years due to the resignation of the Chairman during lockdown reluctantly until his departure as a representative this year. Now he carries a huge responsibility as a cabinet support member covering no less than 21 outside body appointments attached to this portfolio alone.
He does find time to follow his hobby. From April to September he is a member of Guards Polo Club, their matches are held at Smith Lawn on private grounds within Windsor Great Park owned by HM The Queen where he can be found mainly at weekends entertaining the clubs corporate hospitality guests & friends, dining at Mosimanns clubhouse restaurant serving fine food and wine, an experience every guest never forgets.
University of Derby
Navjot Virk: Navjot is a senior academic at the University, heading up Midwifery and Children's Nursing in the College of Health, Psychology and Social Care. Navjot has strong professional history in National Health Service and Higher Education Sector in India and England. She is member of various local, regional, and national professional groups and holds national credibility in the fields of Health Promotion, Safeguarding, Infant Mental health and Speech and Language development. Navjot is well known for her passion in leadership and has supported and coached various health professionals across England. She is passionate about improving quality of services.

In her voluntary capacity as a School governor, she has supported various state funded, Free schools and independent schools and provided strategic direction to improve quality of education. She played pivotal role in setting up Akaal Primary School in Derby which is Sikh Faith Designated Primary school imparting value-based education. In addition, to that she is nationally trained inspector for conducting section 48 Faith Inspections in primary and secondary schools.

Navjot is an active member of Sri Guru Singh Sabha Gurudwara where she does voluntary service in leading a Punjabi school to teach Punjabi and Sikh Studies to UK born children. Navjot is also Her Majesty appointed Marriage Registrar for Sri Guru Singh Sabha Gurudwara Derby to conduct marriages.

Navjot is the proud winner of Vii Media women role model award 2021 where 100 most empowered women were selected across the globe.
Voluntary, Community and Social Enterprise
Jacqui Bell: With almost thirty years voluntary sector experience, including over 15 years as senior manager of medium-sized VCSE infrastructure organisations in Derbyshire, Nottinghamshire, Newcastle & Cardiff, Jacqui is skilled at leading charities through organisational change, significantly increasing income and impact.
Holding the core belief that the participation of people with lived experience in the development of local services is key to achieving excellence in any organisation, Jacqui is committed to ensuring quality engagement of service user voices.
Jacqui lives in Ripley with her rescue dog Fred & Bob the cat, a local stray who has moved in to stay.